Folks + Dudes: How To Pitch Your Sustainable Idea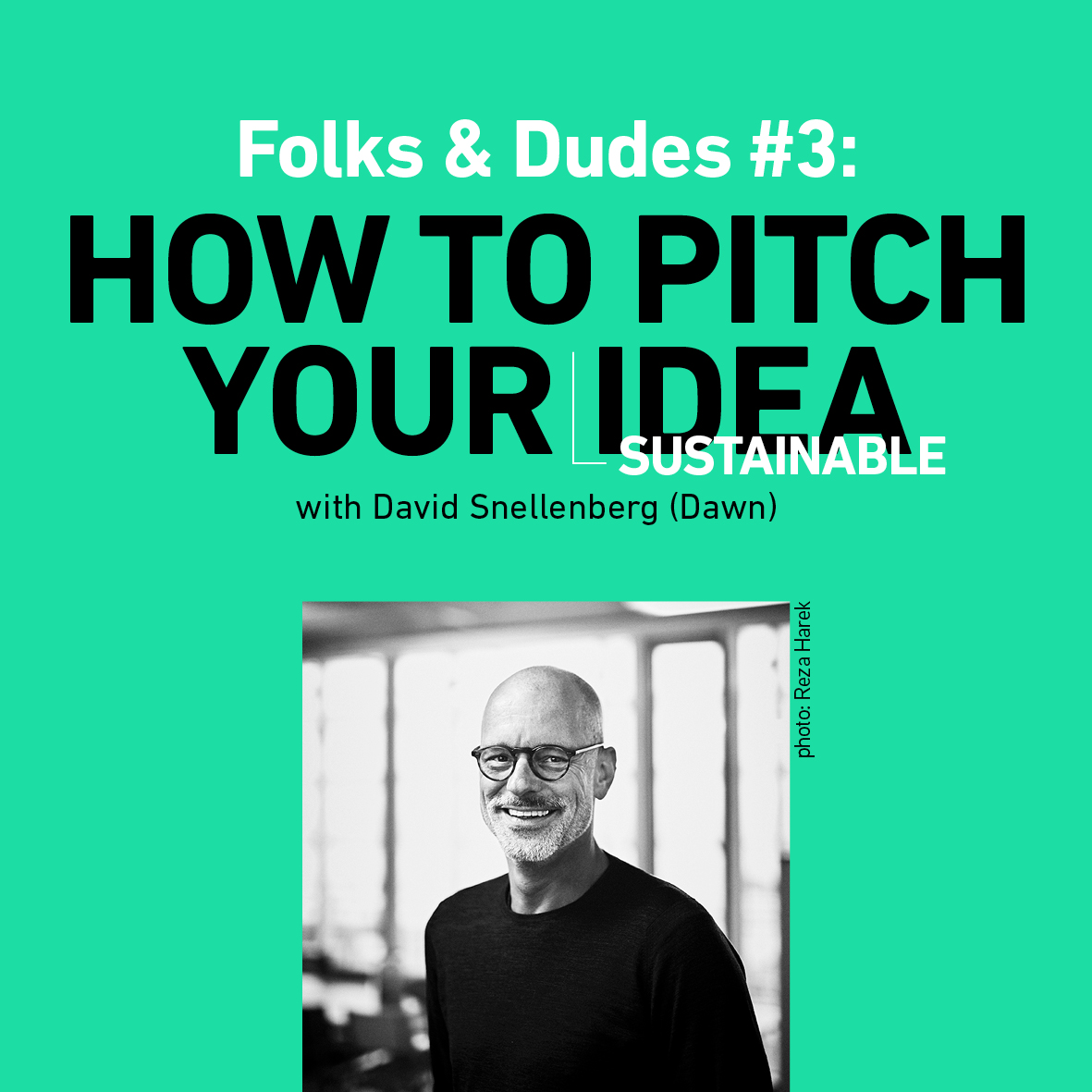 Folks + Dudes: How To Pitch Your Sustainable Idea
Date: Saturday, November 10, 2018
Time: 10.30 am - 12.30 pm (doors open at 10am)
Location: QO Amsterdam
How to get there? Find directions here
Entrance fee: €15 which includes coffee/tea and a small snack
Language: The talk will be in Dutch
-------
What is a good (sustainable) idea and how do you make it better? This is a subject of importance to all designers, creatives and marketers out there. On Saturday, November 10 we'll invite three young, sustainability-oriented designers on stage to pitch their idea, product or service to David Snellenberg of Dawn.
———
Speaker | David Snellenberg | Dawn
David Snellenberg is the co-founder of the award-winning agency Dawn. He's the former President of ADCN and was recently voted 'best in the business' (by Adformatie). David is known for being strategically driven. To translate a mission into a convincing story is what he knows best. On November 10, David will share his feedback to help make a good idea better.
Meet our three young, sustainable talents:
Young Talent | Laurens van Dort | Fairf
Determined to do something both colourful and practical to help secure a viable future for everyone, Laurens van Dort (28) founded Fairf (in 2016), a start-up brand of eco-friendly, sustainable and ethically produced bio-based paints with a sideline in enterprise-related activity for the less fortunate. By offering a better alternative to standard paints, Laurens hopes to take on established brands, and has ambitions to expand rapidly in the Netherlands. Find out how he set up the company and what challenges he foresees.

Young Talent | Bas Froon | SeamlesslyShapingTextiles
Bas Froon co-founded SeamlesslyShapingTextiles in 2017, together with fashion designer Karin Vlug. Together they aim to create a positive impact on the social, ethical and environmental problems of mass production of textile products, by setting up a network of 'local production hubs' were designers and shops can digitally produce 'on demand' series of textile products. At the same time they are also plan to help big companies to make their business more sustainable and competitive.

Young Talent | Anton & Dennis Teeuw | Planq
Planq is a design studio that was founded by three young creatives, Anton, Dennis and Joris, and subsequently named one of the "Sustainable Young 100", a list of the top 100 ventures led by young entrepreneurs and professionals who combine sustainable innovation with environmental awareness. By creating products from recyclable leftovers, such as KLM flight attendant uniforms, textile overstock and cast-off jeans, Planq bridges the gap between contemporary design and environmentally conscious solutions. And by sourcing its materials as locally as possible, it helps raise environmental awareness.
Location
The new, circular-philosophy-based QO Amsterdam will be the venue for this edition of Folks & Dudes.
————

Folks & Dudes is an initiative by Dorien Franken (founder of The Folks Magazine) and Freek Kroesbergen (Editor-in-Chief of Dude, Dutch Designers Magazine of BNO. Folks & Dudes is a pop-up event that aims to surprise and inspire and help young creatives to grow and connect. For more information, please read the press release.
sold out